Start your English learning adventure and
500+ Articles covering all aspects of English fluency, pronunciation, grammar, slang and cultural fluency
Make a habit of downloading our weekly podcast and turn all your spare moments during the day into fun learning experiences.
Quick, convenient, and fun English video lessons to help break out of your boring classroom routine.
To Inspire, Empower, and Connect the World through English!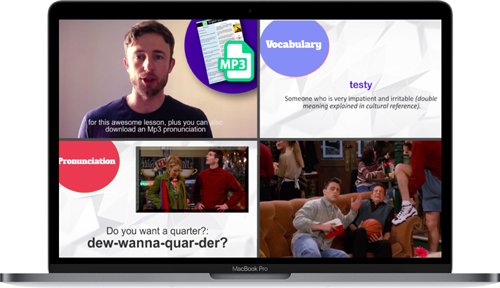 1. Try our Free Mini Course and Learn with the TV Show Friends
Vocabulary: slang, phrasal verbs, idioms, colloquial language

Pronunciation: connected speech, how natives cut and join their words
Cultural references: to master the language you need to understand the culture behind it
3. Get a copy of a RealLife Radio Power Lesson
Test our popular Power Lessons where we turn our free weekly conversational podcasts into fun and convenient English lessons. 
Gradually immerse yourself in everyday conversational topics while we teach you all the most important aspects for English learners as they appear, in real conversation.