Welcome to RealLife English, where we believe that learning English should never be a dry and boring school subject, but a life-changing adventure where
you don't just learn English, you live it.
With over 20 years of combined teaching experience to guide us, Chad, Ethan, and Justin are committed to guiding you on your life-changing English adventure.
We do this in a rich variety of ways, with over a thousand articles, audio podcasts, and videos (plus we will soon launch a video chat platform).
We encourage you to explore these materials on the links on the menu bar above, but we do have a more simple and structured approach.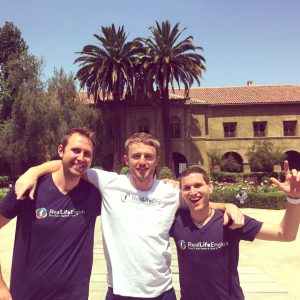 Your RealLife Fluency Coaches: Justin, Chad, Ethan (Left to Right)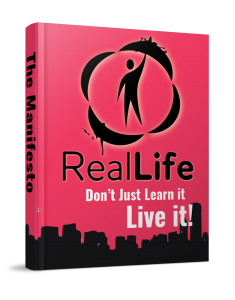 Our Free e-book, the RealLife Manifesto offers an intro overview of the RealLife Way
The RealLife Way: Our 5 Step Methodology
In order to make it easier for you, we've condensed our very best teachings into a 3 week mini-course, delivered via e-mail, taught via MP3 audio / podcast lessons, with transcripts.
The mini-course covers a lot of material, but we start with an introduction and a free PDF copy of our famous Manifesto, and every 3 days you get a lesson focusing on a key aspect of your English learning adventure.
The 3 Pillars of Determination
How to Make English a Part of Your Life
The Truth About Native English
How to Overcome Fear and Shame and SPEAK English
How to Live Your Life Beyond Borders
It's free, and if you dedicate yourself and follow instructions, we have 3 promises for you.
The 3 Promises of the RealLife Way 
You will be INSPIRED to realize your full potential, not just as an English learner, but as a human being.
You will be EMPOWERED with the strategies and courage, to step outside your comfort zone, into the real world, and not just learn English, but to live it.
You will feel CONNECTED to a world beyond borders, a global community and realization that no matter what divides us, what unites us is far greater.
It's FREE, and we won't spam you!